DFMS Halloween Extravaganza 2017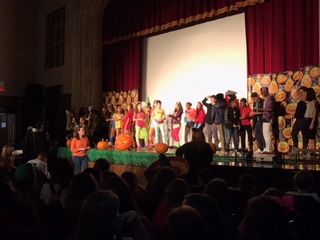 Sofia Bolanos, Staff Writer
December 4, 2017
Although Halloween is long over, the memories will last forever. Like always, the Dobbs Ferry Middle School has it's annual extravaganza. However, the fun starts in the beginning of the day. It's a strange sight to see superheros, villains, and animals sitting together a table, but keep in mind, it's Halloween. All throughout the school day not only are the students dressed up, so are the teachers. Finally the moment everyone has been waiting for, the Halloween Extravaganza. The auditorium if filled with students and staff. And the costume contest begins!
A teacher representative calls up the students by their home bases. Students file onto the stage in their Halloween costumes hoping that they might have a shot at winning the prestigious costume contest.  Individuals as Emojis, cats, superheroes and even villains line the stage. As the students go off the stage and have their picture taken, next up are the group costumes. Again, students, now in groups, are on the stage. On the stage the sight of Starbucks drinks and M&M's stand hoping that they have a chance at winning.
The extravaganza is not only about the contest. Clips from Halloween movies are shown to SPOOK the students. Animated ghosts float across the screen, doing what ghosts do best. Scaring people!
Now, what we've been waiting for! The winners of the contest are …….
6th Grade:
Colonel Sanders

Emoji

Camouflage Monster

School Girls and Locker
7th Grade
Barbie Cosmetic Table

Police Officer

Kerbal

Villains
8th Grade
Robot

Eleven

Instagram

Shadowhunters
The question is, which is better? Students showing off their costumes, or the teachers? Does it matter? Like the students, the teacher show off their group costumes by lining up on the stage in their best attire. After chants and overwhelming applause, the bell rings and students are released to go Halloween Trick or Treating. Happy Halloween!