No Place For Hate Club Gives Back to the Less Fortunate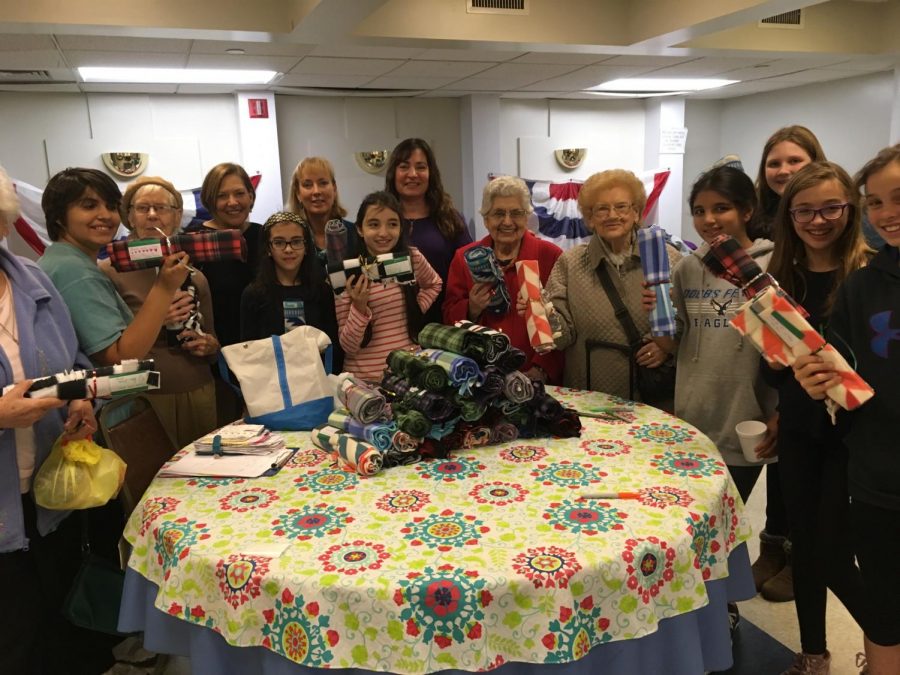 Eve Sarno, Staff Writer
November 20, 2017
You may have dismissed No Place for Hate as just another club to promote a series of kindness and anti-bullying sort of messages at DFMS. Think again, reader! The 7th grade No Place for Hate club walked to the town hall last week and made scarves for the homeless with the senior citizens.
The club cut fringe on sheets of fabric to create scarves. Next, they rolled them and tied the bundles with fancy ribbon. Finally, they added stickers that read "Made with love-from Dobbs Ferry" to each scarf. Ms. Mittan, the NPFH group instructor, dropped the bags full of festive holiday cheer off at the Midnight Run in Dobbs Ferry. The Midnight  Run accepts donations from locals to give to the homeless at the "run" in New York City late at night, hence the name "Midnight Run".
To give you some background, many homeless people, including families, barely have anything to keep warm with on these cold nights. According to the Coalition for the Homeless, in September, 2017 there were 62,351 homeless people in New York City, with 15,553 families.  These people need coats, scarves, hats, gloves, boots, backpacks, and any other helpful articles. It's not quite winter yet, but it will be soon, so any holiday donations are much appreciated to the Midnight Run on Main Street.
In order to go on the trip, 7th graders had to miss their lunch period and the period after. Of course, students welcomed the chance to miss a class, and many club members enjoyed the beneficial outing. Elizabeth Distefano, a NPFH member, commented on the trip. "I think it was a very kind act to do for the homeless with the citizens. It was enjoyable and a good deed to do."
The kids enjoyed mingling with the older folk, and hopefully vice versa. This story goes to show how two generations can still interact in our changing world, and how they can both give something to the less fortunate.