KenKen… I Am Your Father!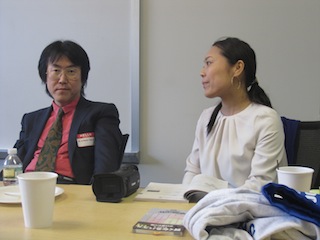 Hang on for a minute...we're trying to find some more stories you might like.
Tetsuya Miyamoto, creator of world the renowned KenKen puzzle, came to our very own Springhurst! He is a mathematics teacher in Japan and wanted to see what American schools are like.
Miyamoto created KenKen to teach his students math and logic skills through a fun, challenging puzzle. His philosophy was "The Art of Teaching Without Teaching™" and what better way to do that than a puzzle that is fun, but still educational?
Miyamoto showed us some new puzzles that were really, really difficult! What was kind of embarrassing was he told us that he makes his puzzle for his 3rd graders! After about 10 minutes of trial-and-error, he showed us how to solve them, which was very helpful.
After the puzzles I got to have lunch with him, along with some other middle schoolers. Miyamoto was joined by Nikki Yoshimura, who is the Director of Marketing Development for KenKen. She also served as Miyamoto's part-time translator. Also present was Robert Fuhrer, the man who brought KenKen to the US.                                                                        
Meeting Mr. Miyamoto was a fun, inspiring and cool once-in-a-lifetime opportunity.
I asked him a couple of questions and found out many interesting facts. He told me that he came up with KenKen because he wanted to have a puzzle for his kids that covered all four operations (+,-, x, ÷), not just one. He teaches 3rd-6th grade and his students dominate the Math Olympics in Japan and get into the best schools. Miyamoto says that his students never talk in class because they are so focused on their work (imagine how much our teachers would like that!) and, even though his students might not finish the puzzle, he says they still learn a lot by trying it and thinking about it.
There was one thing he said that made me even more excited than I already was. He said he was very famous in Japan! He was actually on TV a couple days ago. Not only that, but his six books are in the top 20 in Japan.