What is Going On With Real Madrid?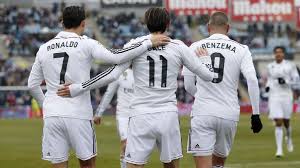 Hang on for a minute...we're trying to find some more stories you might like.
Recently, Real Madrid has been going through a rough patch. After earning a 4 point lead atop the LA Liga table, Real Madrid are now in second place behind Barcelona. After consistently winning by 3 or 4 goals against weaker opposition, Madrid has dropped 7 points since mid January,been knocked out of the Copa del Rey, and eked out wins against Cordoba, Seville, and Schalke 2-1, 2-1, and 2-0 respectively. Against Cordoba, Madrid needed an 89th minute penalty to win, while against Schalke a 74th minute shot by 19 year old Felix Platte struck the crossbar. Had the shot been a few inches lower, the game would have most likely finished 1-1. So why is Madrid, one of the best teams in Europe, dropping so many points? Why have Madrid, who boast the likes of Cristiano Ronaldo, Gareth Bale, Karim Benzema, and many other world class players, been underperforming?
Recently, Real Madrid have been plagued by injuries and suspensions. Important players such as Sergio Ramos, James Rodriguez, and Luka Modric are currently missing due to injury. Also, until recently, one of Madrid's centre backs, Pepe, has been injured.  Madrid's other centre back, Sergio Ramos, has been out with a torn left hamstring since Madrid's 2-1 win over Sevilla on Feb. 4. His solidity at the back, as well as his danger from set pieces will make sorely missed.  Also in that game, attacking midfielder James Rodriguez fractured his right foot putting him out of action for an extended period of time. The 23 year old had 12 goals and 8 assists in 25 matches this season while only taking an average of 1.8 shots per game. Finally, Luka Modric has been injured since he tore a ligament on international duty with Croatia. Modric, one of the best midfielders in the world, boasted a pass accuracy over 90% this season.  Cristiano Ronaldo was suspended for 2 games due to a red card while Marcelo was suspended for a crucial match against Atletico Madrid. Real Madrid simply have not been able to cope with missing these players.
These injuries and suspensions have forced Carlo Ancelotti to use a makeshift starting line-up with as many as 5 starters missing. One example of this was in Real Madrid's horrid 4-0 loss to cross-town rivals Atletico Madrid. In that game, only 1 defender was a regular starter and only 1 midfielder as well. Madrid's normal lineup is as follows; Casillas in goal, a back line of Carvajal, Pepe, Ramos, and Marcelo, a midfield trio of Toni Kroos, Luka Modric, and James Rodriguez a little farther forward, and the "BBC" as they are called, Bale, Benzema, and Cristiano Ronaldo as forwards. In the game against Atletico, however Madrid was missing several key players. Instead of Pepe and Ramos, Madrid had to rely on two young centre backs, Nacho and Varane who have an average age of just 23. They uses Sami Khedira instead of Modric and pulled Toni Kroos back to set up in a formation with two defensive midfielders. Finally, Madrid used Isco in the absences of James. Although Isco has performed well this season, he is not quite at the level of James yet. This lineup simply did not work for Real Madrid. The two defensive midfielders sat too deep allowing Atletico to dominate the game in the midfield. Atletico put 4 past Casillas, the most spectacular of which was a bicycle kick by Saul. This lineup does not suit Madrid playing style. Madrid is very aggressive team that is not very good without the ball. Although Madrid did not have much choice due to the unavailability of many of their players, they need a more aggressive lineup to function.
Even with Madrid's weakened lineup, they still should be one of the best teams in Spain and even Europe. Unfortunately for the Real Madrid fans however, Madrid's main threat going forward, Cristiano Ronaldo, has been underperforming recently. Since the beginning of 2015 Ronaldo play and production has decreased. Aside from a silly red card, he has only scored 6 times and assisted 3 times in just over 1000 minutes of play. Also, 2 of the goals he has scored in 2015 have been penalties. Although these numbers are not horrible for a wide player, they are nothing compared to his performances earlier this season. Before 2015, he scored 29 goals and notched 8 assists in just 23 games! Admittedly, 10 of those goals came from the penalty spot, but even subtracting the penalties 19 goals in 23 games is quite an impressive record. Clearly, Ronaldo has not been performing at the level that he has proven he can. Perhaps it was his 30th birthday causing distractions, perhaps after winning the Ballon D'or he feels he is too good, or maybe, as it has been rumored in the press, he is still suffering from knee problems.
Madrid is also experiencing some difficulties in goal. Despite spending £8m on Costa Rican shot stopper Keylor Navas, Madrid have stuck with former youth product Iker Casillas. In his prime Casillas was certainly one of the best, if not the best, on the planet. However, being 33 years old, he is not quite the player he once was. Despite a poor showing last season, in which current AC Milan goalkeeper, Diego Lopez beat him to the starting spot. When he did play, such as in the World Cup, or in the Champions League final, his play was riddled with errors that nearly cost his team "La Decima" and led his country out of the World Cup in the group stage. This year, Casillas's play has been more consistent but there still have been errors. For instance, against Atletico, despite Tiago hitting a shot more or less directly at Casillas, the Spanish goalkeeper could not keep the ball out of the net. Real Madrid should be looking to replace him (most likely with Manchester United goalkeeper David de Gea) this summer.
Looking forward, things will get better for Madrid. Both Luka Modric and Sergio Ramos are set to return this week or next week. James Rodriguez will recover from injuries in mid April. The problems that are harder to solve are the poor form of Casillas and Ronaldo. Although there is a good chance that Ronaldo will go back to his scoring ways and Casillas will revert to his old self, the points that Madrid have lost could be hard to earn back. Assuming Barcelona does not slip up against weaker teams, Madrid's only chance to get back to first would be in "El Clasico."  Unfortunately, this game is in Barcelona where the catalan side will have the home field advantage.
If Madrid's current form continues, they will have some serious  decisions to make in the summer transfer window. Personally I think that Real should sell Cristiano Ronaldo this summer. Madrid could probably get about 100 million dollars plus David de Gea from Manchester United in exchange for the Portuguese winger. Manchester United would be okay with this move as they have former Barcelona keeper Victor Valdes as a backup. Madrid could then sell Sami Khedira to Arsenal for around 30 million dollars. This would leave Madrid with 130 million dollars to spend. They could trigger Marco Reus release clause at Borussia Dortmund for 29.7 million pounds; approximately 44.83 million dollars. This would leave Madrid with 85 million dollars to spend. Purchasing Paul Pogba would cost about this much leaving Real Madrid with only their ordinary transfer budget. With their ordinary transfer budget, they could purchase Mats Hummels, the strong German centre back from Borussia Dortmund. Pepe or Varane would now be rendered superfluous and could be sold to a Premier League side such as Liverpool, Arsenal, or Manchester United. Harry Kane could then be purchased from Spurs and then sent back to the London club on loan. If more money is needed Luka Modric could be sold to Bayern Munich or any other major European team. After these transfers Madrid's starting line-up would be like this: De Gea as goalkeeper (Casillas as back-up; Keylor Navas sold or sent on loan), a back line of Dani Carvajal, Mats Hummels, Sergio Ramos, and Marcelo (Varane/Pepe and Nacho as backup centre backs, Fabio Coentrao as back up left back, and Arbeloa as back up right back), Paul Pogba, Toni Kroos, and James Rodriguez in midfield (If a defensive midfielder is needed Lucas Silva or Asier Illarramendi could play, Isco as a backup midfielder), and a forward line of Marco Reus, Karim Benzema, and Gareth Bale (Harry Kane coming in after a year or so on loan, Jese as a back-up on the left, If Bale cant play switch to 4-4-2 with Reus and Benzema as strikers).
Regardless of how Madrid chooses to proceed, they need something different to escape the current slump they are in. Maybe all of Madrid's problems will be solved when all of their important players return from injury. Maybe Ronaldo will start to perform at the level he played at earlier this season. Or, maybe all of Madrid's problems will persist and force them to make radical changes this offseason. No matter what, as Madrid gets closer and closer to the end of the season they will sorely regret the points they have dropped recently.