Dobbs' Starbucks Changes Come With Mixed Reviews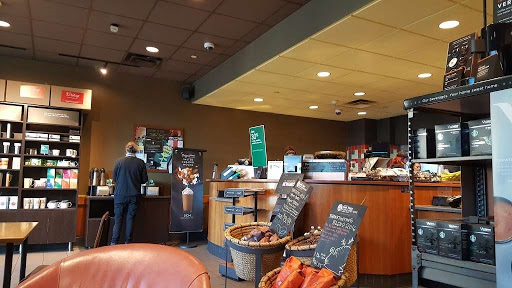 On September 22nd, 2019, customers at the local Starbucks in Dobbs Ferry were welcomed with a new look to the popular store. Starbucks was closed for just under two weeks.  Even though the renovations were done in a short period of time many regulars had to find another way to get their morning coffee.
Starbucks Dobbs Ferry recently closed down for renovations. Many of the regulars waited impatiently for Starbucks' new look to be revealed. Starbucks closed on September 9, 2019 and re-opened on September 22, 2019. Customers that have been Starbucks regulars for years have mixed feelings on the new look.
Before Starbucks was renovated it was much darker and cozier, with soft seating like couches. The renovated Starbucks is much brighter with a sleek modern design. The previous Starbucks used colors like browns and warm tones, the renovated Starbucks uses colors like white, gray and very light browns.
Some say that the previous Starbucks used the space better and others are loving the sleek modern look the new design has to offer. Dobbs Ferry Middle School 6th grader, Angela Crowe, has been a Starbucks customer for some time.  "The color scheme is well thought out. I still feel there is room for improvement. They could have used the space better." 
Seating is the main issue for customers as a result of the new design. Dobbs Ferry resident Jennifer Doyle added, "The space feels a lot brighter and makes it more inviting, but they should have added more seating." 6th grader Abigail Bates had this take, "The new design is perfect, and it is not as slow. My only complaint is that they need more chairs." 
For customers that use Starbucks Mobile order, a way to order your coffee or drink ahead of time so that when you arrive your drink will be ready. The pickup counter is much larger and easier to access.