Rare Bit Restaurant is a Dobbs Gem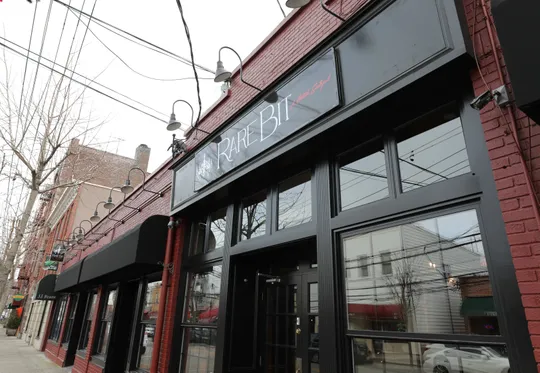 With its trendy East Village architecture, quintessential British pub vibes, renowned culinary classics and friendly staff, the Rare Bit restaurant at 23 Cedar Street balances quaint with contemporary.
Intended to bring the English countryside into a modern area, Rare Bit is dubbed a ¨British Gastro Pub¨, and is Main Street´s Celtic Corner´s younger hip cousin. The restaurant is a mere 3 months old, but is a roaring success among residents of the Rivertowns, as can be told by its constantly packed interior. Says one local, ¨Rare Bit is the bomb dot com. I'm forever amazed at each new dish they add to the menu; they're all so unique and delicious while still having classic British undertones. The inside is pristine and the decor meticulously selected to give off the perfect atmosphere of artsy and elaborate.¨
It's quickly apparent that the employees are genuinely interested in ensuring your every need is taken care of. The kitchen crew, especially, offers stellar service; you're never kept waiting for your food for more than 30 minutes, a remarkable feat in a restaurant where every table is occupied.
The food itself, though, is where Rare Bit shines, which isn't surprising, because chef David DiBari is owner of both The Cookery and The Parlor restaurants of Dobbs. These two establishments have been given outstanding praise throughout the years from top food critics of the New York Times.
Each and every dish on Rare Bit´s menu is meant to be savored; you can almost taste the organic, simply natural grass the beef was fed, the vegetables are sizzled into a light medley, seasoning always scores a flawless combination, their pie crust is thick and moist, and the potatoes are crisped to golden perfection.
Let's not forget the desserts! The pudding is rich and creamy, nostalgic of rural Yorkshire, while the meringue is whipped into fluffy oblivion. The shortbread biscuits offer a satisfying, flour-dusted crunch.
The restaurant's atmosphere is one of merriment, as it can instantly shift from the afternoon´s quiet picturesque china plates to the evening rush of heavier food, boisterous laughter, and warm lighting. Rare Bit is a true gem of the finer things in life, hidden away on a suburban street.
Be prepared, however, for your wallet to become considerably lighter after dining at Rare Bit. Although you get fairly large portions, first-class food, beverages, and service may leave you gasping at the check, so here's some perspective: the Beef Wellington costs a staggering $41.00, while two drinks are generally in the $36.00 range. A simple Fish and Chips entree can be as much as $22.00, and forget about the (heavenly) desserts, which can easily exceed $10.00. A Shaved Cauliflower salad can cost $13.00 on any given day. The Bacon Chop appetizer is $23.00, and even a side of mashed peas can give you a run for your money at $6.00. Add it all up and you get $155.00. If you made the mistake of bringing someone else, you'd better be able to fork over $310.00. Oh, and then there's the tip, which they expect a lot of.
Rare Bit gets a ghastly rating on pricing, but the expense is understandable when you consider just how excellent a restaurant it is. Choose Rare Bit for a special occasion or a relative's birthday lunch.
Or when the Queen of England is staying with you.
To make a reservation at Rare Bit or to take a look at their menu, visit https://therarebitdf.com/.