An Abundance of Shoppes: Five New Businesses Have Come to Dobbs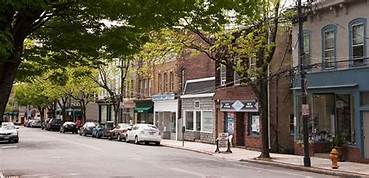 A year ago, I reported the loss of Raw Juice, Cedar Street Grill, and Pop Shop; three businesses which were all located on Cedar Street in Dobbs. The reasons for their closings were mostly unknown, and they were mourned for many months.
But a new era has dawned! Five new shops have come to set up in this humble town. Some have already flung open their doors for business, but others, at this moment in time, have only hung signs in the windows of their otherwise barren territories.
A surprising fact is…three of these shops will be on Cedar Street! Also, one of them will be in the space POP SHOP previously reigned over! Furthermore, one will be in the space CEDAR STREET GRILL formerly occupied!
Whoa! This must be a supernatural twist of fate, because it's highly unlikely last year's shops could be replenished fairly quickly. But it's true; Dobbs Ferry is gaining fame among proprietors looking to establish a place to sell their wares.
The first on our list is the famed Coffee Labs Roasters of Tarrytown. Coffee Labs is very popular among not only Tarrytown residents but people who live in other rivertowns.  Residents of Ardsley, Irvington, Dobbs and Hastings naturally flock to the busy café. Many Dobbs citizens are overjoyed that CL is finally spreading its reach past its hometown.
"I'm thrilled about the Coffee Labs news. The only options to buy coffee in Dobbs Ferry at the moment are at Café Latte or J.J. Beans. Both of these places either lack hospitality or lack the coffee quality that every resident should be entitled to. Oh, and driving to the Starbucks in Ardsley isn't a convenient endeavor to attempt in a busy day," explained one Dobbs resident who wished to remain anonymous.
The new Coffee Labs in Dobbs could be up and running by Christmas time.
Although….further online research yielded the more accurate (yet vague) "early 2019" label.  It will be moving into the lower floor of an as-of-yet-un-numbered brick building on the corner of Main Street and Chestnut Street. CL will share the space with its new partner Climbing Wolf Beer (the second business on our list). This collaboration is between spouses Mike and Alicia Love, the owners of Coffee Labs, and JB Gomez, a self-appointed "beer aficionado" who will be at the head of Climbing Wolf. The shop will be split in half, with one side featuring Coffee Labs' coffee and pastries; and the other side housing Climbing Wolf's craft beverages.
The next shop on our list, Curly Hair Alchemist, is a hair salon for, as the name suggests, patrons who have curly or especially difficult hair to work with. It should have been a welcome addition to Dobbs Ferry, but the ominous message "by appointment only!" pasted on the door undermines its accessibility, not to mention reputation. Nonetheless, Curly Hair Alchemist is already available to receive customers. It is in the space Pop Shop was situated in, and that is 32 Cedar Street.
The fourth business on our list is called British Gastro Pub. It offers beer and other beverages in a similar vein to Main Street's Celtic Corner (not to mention Climbing Wolf), except it's on 23 Cedar Street, which is, surprisingly, the exact same address as the former Cedar Street Grill. It is currently unknown when BGP will be open for business.
Lastly, there is the lesser-known herbal apothecary Cedar Botanical Delights, which has moved into 60 Cedar Street. This business is, to put it mildly, incognito concerning why it suddenly sprang up. The "About" page on its own website has only a measly scrap of solid detail about why they exist.
From what I could piece together, CBD sells organic herbs and spices in order to promote a "healing atmosphere" for their customers. The company claims you can schedule private spiritual appointments with them, but what these are, exactly, remains unclear. CBD is open for business, but it will probably take quite a while for them to gain identity in Dobbs.