Show Your Hustle at the Village's Holiday Hustle!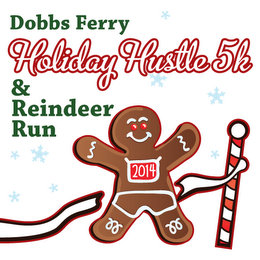 Hang on for a minute...we're trying to find some more stories you might like.
The Holiday Hustle, that's been recognized on the DFMS's Daily Dose, is a 5k (about 3.1 miles) run and The Reindeer Run is a 1k (about 0.6 miles long) race through the streets of Dobbs Ferry. The race is split into three sections- ages 5-10 (Rendeir Run), ages 11-14 (Holiday Hustle), and ages 15-120 (Holiday Hustle). Each age division will be timed separately between males and females, and will be awarded the same way. Run fast!!!
This holiday themed festivity is held on December 14th, starting at 9:30, but you should be at Mercy College at 8:00 to pick up everything for a good race. There will be hot chocolate and cookies at the finish line-the fire station on Main Street- for spectators and racers to gobble down after the race.
Oh, and there's one little part I forgot to mention, COSTUMES! There is a contest for best costume with male, female, and group categories! If you think you won't be able to push yourself through the race with or without your costume on, don't be scared, the spectators and volunteers for the race are always cheering the racers on!
Here's your way to get pumped, and find out more! I'm pretty sure everybody reading this is 11 years old or older, so you will be running in the Holiday Hustle if you choose to run! If you want to register, go to the Dobbs Ferry Village website and sign up now!
Don't forget, if you are one of the first 150 registered for the race, you can receive a free Holiday Hustle/Reindeer Run shirt to wear as proof!