DFSD to Perform Les Miserables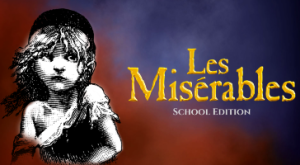 Do you hear the people sing, singing a song of angry men!
On April 7th, 8th and 9th, the High school musical is putting on a production of Les Misérables. Les Misérables is a musical that takes place during 19th century France. Jean Valjean is an ex-prisoner who breaks parole in search of a life as a free man. However, a determined police inspector relentlessly chases him in hopes of bringing him to justice. Follow Jean Valjean as he adopts a young girl named Cosette and intertwines with the lives of young pursuers of freedom trying to overthrow the France government. This story is one of the world's most famous tragedies. 
Although this is a high school musical, three middle schoolers were chosen to play young Eponine, young Cosette and Gavroche. Laila Storms, an 8th grader, plays young Cosette and Gavroche is played by 6th grader Chloe Hogan. "Les Misérables is a sentimental love story, but a tribute as well for the lives that were lost in the quest for freedom," says 6th grader Phoebe Walker, who will be playing young Eponine. Her favorite songs are Master of the House, At the End of the Day, One Day More, The People Song, and The Night. "I think Les Misérables is a well-written musical with a good storyline that has been famous through the decades. I am so excited to be performing in it." 
Showtimes are 6:00 p.m. on Thursday, April 7th, and 7:00 p.m. on April 8th and 9th. Admission is $10 per person. The show will take place in the High School Auditorium. Whatever you do, don't miss it!