Fantastic Beasts And Where To Find Them: A Wizarding Wonder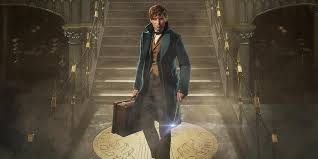 Hang on for a minute...we're trying to find some more stories you might like.
November 18th marked the release of a new wizard, Newt Scamander, in the spin-off movie Fantastic Beasts And Where To Find Them. The movie has drawn thousands of Harry Potter fans flocking to the theaters, excited for a new era of wizarding.
Beasts represents another evocative storyline by J.K. Rowling, the author of the Harry Potter books. Even though Harry and his friends weren't in the movie, a few characters; such as Hogwarts Headmaster Albus Dumbledore, and the evil wizard Grindelwald, are mentioned.  The story is set in 1926 New York, long before the first Potter  movies are set, and even though the plot is magical, the world around them and some of the things the characters do have some '20s elements.  It's fun to see another magical adventure in a different time period.
The story centers on Newt Scamander, a Magizoologist: he takes care of magical creatures, all kept in his suitcase, which is bigger than it seems.  When Newt Scamander visits New York, he accidentally lets one of his beasts loose–and becomes tangled up with a muggle; a non-magical person. When the two accidentally switch suitcases, the creatures escape, and it's up to Newt and some new wizards to find them.
Beasts is a great addition to the Harry Potter franchise. It was had a well-thought out plot, and each character was interesting and unique in their own way. My only criticism is that in the second half of the movie, the plot diverged, rendering the "fantastic beasts" parts as somewhat an afterthought. The group must find a wizard child, fight a dark creature, and capture the evil wizard Grindelwald. I wanted a little more plot for the beasts, and what other mischief they found.
Eddie Redmayne, who plays Newt Scamander, was a really great actor. He gave off the vibe that he was more comfortable with his creatures then with his fellow wizards, and his socially awkward character makes him more relatable.  Dan Fogler played Jacob Kowalski, the non-magical man that Newt befriends. Even though he is not one of the main characters, Jacob Kowalski is really funny in every scene he's in, exploring the magical world for the first time. The character's dream is to own a bakery, and he and Newt go to the same bank where they meet for the first time. This scene-stealing new character is great, and Fogler really brings him to life.
Fantastic Beasts and Where to Find Them was based off a book of the same name, by J.K. Rowling, one of the three additions to the Hogwarts Library, three informational books that provided background to the wizarding world. This book, along with it's author and some of the creatures mentioned, were inspiration for the movie.
For anyone looking for an exciting movie to see in the theaters, Fantastic Beasts is what you're looking for. Filled with magical special effects, great characters, and an extraordinary plot, J.K Rowling's newest movie adaptation is a wizarding wonder.